Dental Implant Procedure
by Florida Prosthodontics
Dental implants are a modern treatment for replacing missing teeth, providing a unique alternative to bridges and dentures, and Florida Prosthodontics is proud to offer you this amazing option. Dental implants use small titanium posts to support the ceramic crowns that replace your missing teeth. The process of getting dental implants is more involved than traditional treatments, but successful treatment makes it all worthwhile.
Your First Consultation

Before you can undergo implant surgery, we need to determine if the treatment is a good option for you. This consultation involves a thorough oral exam, during which we look at the condition of your mouth and take digital x-rays. The x-rays enable us to see the condition of your jawbone so that we can assess bone loss and determine if implants can be placed, or if you need to undergo a bone graft procedure first. Once we determine your candidacy, your x-rays can help us to formulate the best treatment plan to meet your needs.
Dental Implant Surgery
Dental implant surgery is done under a local anesthetic. Sedation is also provided to help you remain relaxed and comfortable during the procedure. We then make small incisions in your gums, which provides us with access to your jawbone. Holes are drilled into the bone, and the implants are placed inside. The gums are sutured closed around the posts, leaving a small portion exposed above the tissue. If your final teeth are being placed that day, they are then screwed onto the posts. If the crowns are to be fabricated later, temporary teeth are secured into place.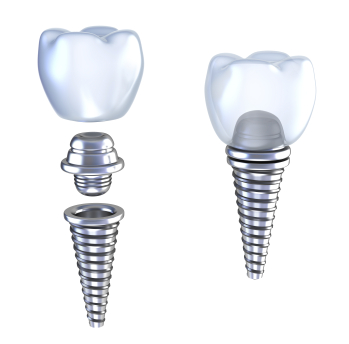 Recovering From Surgery

When you go home after surgery, you are provided with aftercare instructions. These instructions will help you to deal with common post-surgical issues such as pain, swelling, and bleeding. They will provide you with tips on limiting activities as well as what to eat and what to avoid eating.

Healing from implant surgery can typically take anywhere from several weeks to several months. During this time, your jawbone gradually fuses to the posts in a process known as osseointegration. This process stabilizes the posts within your jaw, essentially turning them into the roots that will provide support for your replacement crowns. You will have periodic follow-up visits, enabling us to monitor your progression and make sure that the implants are integrating properly.


The Last Steps

If you have not had your final teeth placed in the same appointment as your surgery, they will be placed after you have healed from surgery. We first begin by removing the temporary teeth. Next, the abutments, or connectors, are placed on the exposed ends of the posts. We then take digital impressions of your mouth, which are displayed in 3-D on our computer monitor. Using specialized software, we can design the crowns for your implants that will fit perfectly in your mouth. The information is then sent to the in-house milling machine. A ceramic block is placed into the machine, and your crowns are milled. After they are glazed, fired, and polished, they are checked to make sure they fit properly. Finally, they are secured in place using small screws.


Benefits of Dental Implants

Dental implants offer several benefits:
| | |
| --- | --- |
| • | The crowns look just like your real teeth. |
| • | They feel and function just like natural teeth. |
| • | They offer superior comfort. |
| • | They can be brushed and flossed just like your real teeth. |
| • | The posts stimulate your jawbone just like the roots of your natural teeth, preserving the strength and health of your jawbone. |

While getting dental implants may be more involved than getting dentures or bridges, the benefits that these treatments offer are nothing short of amazing. For more information, and to schedule your consultation, call Florida Prosthodontics today at (321) 635-1175.